(Be advised, this is a poignant posting.)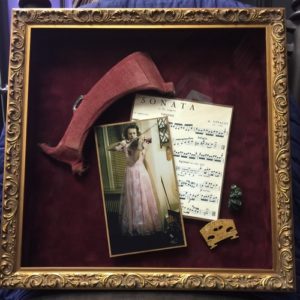 We all know the holidays are a time for remembering our family and friends, sharing time together, laughing and creating family memories.
But this week, I was reminded of all the times I have created a memorandum shadowbox for family members who have left this world too soon. An acquaintance of my family passed away this last week way too soon. The heartache for his family is understandably deep and wide. His passing made me reflect on the number of times I've had the honor of designing and framing projects for loved ones.
Over the years a number of framing projects have stayed with me. (There are more than I can share here, but I want to share a few which have had the most impact during the season of remembering.)
The first project that comes to mind is a sister bringing in a small watercolor that her sister had painted but she wanted to enhance it more to honor her sister who passed away from cancer. She wanted to reframe this precious painting in "something nice." After a few new designs were offered, I suggested I take the watercolor out of its current frame so she could see the ideas without the old framing package.
Upon removing the "old mats and frame," I discovered a 2nd painting on the reverse side of this watercolor. The customer began to tear as she stated "my sister painted that on the shores of the Carolina coast, and I was sitting next to her when she painted it!" She had no idea, that there was a 2nd painting.
We changed our design concept to one where she could enjoy one side of the watercolor (a horizontal) painting for awhile, then remove it, and turn the watercolor over (now a vertical painting) when she desired to see the 2nd image. Upon completion, and she picked up the finished work, we cried together and hugged. I'll never forget this lovely project.
Then there was the time when a sudden diagnosed health condition caused a 12 yr olds passing… and his life's treasures were framed – including his boy scout uniform and patches… what more can I say.
These are just a few of my memories when it matters what I do had how it makes a difference to someone. It is more than "a job." It is a framers small way to touch and sometimes, hopefully, help a healing process.
This Christmas, share memories, share hugs, and share your love for your family.